There is no shortage of reviews of cheap WordPress hosts online, so why should you listen to this one?
Well, as a web designer and developer with 15 years of experience I know what makes a good web host and I've actually used the services mentioned here extensively. I've used these hosts with real websites and real users and I'm not just linking to hosts with the best affiliate programs like most websites do (although this post does contain some affiliate links for products and services I genuinely use and recommend)!
I'm going to do something else differently here too.
I'm NOT going to list the top 10 or 20 cheap WordPress hosting providers. I'm going to limit it to 3.
I'm keeping it to just a few hosts because nobody wants to spend an entire day going through a massive list of hosts, and like I've said – I've actually used all of these hosts. If someone is doing reviews of 10 or 20 hosts, do you really think they've used them all extensively?
Now that's out of the way, let's get started!
What Makes a Good WordPress Host?
For me, the key things a WordPress host needs to provide are:
Excellent support
Great speed
Great uptime
An intuitive and easy to use admin panel
Great Pricing
Great Features
These things will probably come as no surprise and they are the same things I'd look for in any hosting platform. A good WordPress host should have specific knowledge of WordPress though and be aware of some of the security issues that the platform poses.
So, now we know the main things we need to keep in mind let's have a look at the best providers of cheap and reliable WordPress hosting and see what other features they provide.
SiteGround is a very popular WordPress hosting provider with some very affordable options. Perfect for anyone looking for cheap but reliable WordPress hosting.
Right now, SiteGround is my number one recommendation for beginners and intermediate WordPress website owners. It is also an awesome choice for advanced users too thanks to their developer tools and reseller options.
The only people I would advise against a hosting solution like SiteGround are those with a very large, established website that attracts hundreds of thousands of monthly visitors. For those people, dedicated servers would be the best option.
SiteGround is the host I recommend for most of my web design clients too. I currently host a couple of my own websites with SiteGround and I'm going to move my remaining ones over to them as well. Keep reading to find out why.
SiteGround Support
SiteGrounds support is second to none. They provide telephone support, live chat and support tickets. I've used their live chat a few times and the service has always been perfect.
Issues have been resolved quickly and I only had to wait a few minutes to get connected to someone. In fact, their support has exceeded what I would expect from one of the cheapest WordPress hosting providers on the market.
As with all cheap hosting providers, they will try to direct you to articles and their extensive documentation before they present their contact options to you. This can be annoying but you won't get a dedicated account email or 24/7 phone support without more expensive options.
SiteGround Speed
SiteGround hosting speed is very good thanks to their NGINX server technology which is an extremely fast web server. All of their plans include SSD drives too. SiteGround does more than most other hosts to make sure your website is fast though. They've even built their own caching plugin for WordPress (SiteGround Optimizer).
SiteGround also provides a free content delivery network which enables your content to be downloaded from multiple places around the world so that visitors from different countries can download content from the data centre which is closest to them. Whilst this is a great option, it only works with domains with 'www' included which is a shame as I usually serve all my domains without www included.
Overall, the efforts SiteGround go to in order to provide outstanding speed really shows. You won't be disappointed with the speed of your SiteGround website and they are one of the fastest hosts out there.
SiteGround Uptime
SiteGround goes the extra mile when it comes to server uptime. They have developed a number of custom solutions to minimise the risk of downtime and they claim to have an uptime of 99.99%! This is amazing and whilst I don't have the stats to back this up, I've got no reason to doubt them and I've never experienced downtime on any client websites, or on my own websites.
Sitegound Admin panel
I love the SiteGround admin panel. It is very beginner-friendly and easy to use.
It has recently had a complete overhaul. During the change, they moved away from cPanel and decided to use their own custom made dashboard.
When they announced this, I was worried. I love using cPanel and its handle to use a dashboard that is consistent across many different providers I use.
However, when they launched the new dashboard I was very impressed. It is incredibly easy to use. This is how your SiteGround dashboard will look. You can easily get to all the essential tools you need to set up your website.
This is how the old dashboard looked. In my opinion, the new one is a huge improvement and the move away from cPanel paid off.
SiteGround Pricing
SiteGround pricing is great. Their cheapest plan starts at $3.95 per month. This is for their StartUp plan. This plan will be perfect for anyone setting up a new website but you can only host 1 website with this plan. For people with already established websites that need more features, space and the possibility to host multiple websites then their GrowBig and GoGeek plans are available at $5.95 and $11.95 respectively.
These prices are great and either one will be perfect for anyone looking for cheap WordPress hosting but there are a few annoying issues with GiteGround pricing options.
Firstly, they really try to push you to sign up for at least a year. When you go through the checkout process it's not obvious that you can even change to monthly billing. If you do find the option to change then you'll notice that you'll be charged a set-up fee (around $20) for monthly hosting!
The second thing that I don't like about their pricing is that when you renew hosting with them you'll be paying much more. They don't highlight this very well either. Just some small grey text above the initial price that shows the price you'll pay after your initial term. You'll be paying 60% more after your initial term ends!
Features
SiteGround has some awesome features, especially for advanced users. We've already seen some of their great features to improve speed and how good their support is but what else do they offer?
As a developer, my favourite feature is their staging tool which allows you to create a test area for a website you are working on with a single click. This is available on the GoGeek plan and it has saved me lots of time over the years.
Another great feature is their free website migration. SiteGround will transfer one existing website to them for free so there is no reason not to give them a try if you are looking for an awesome and cheap WordPress hosting service.
Check out SiteGround (Affiliate link)
Dreamhost
Dreamhost was the first ever web host I signed up with when I became a web developer a long time ago and it's also the host that this very website is hosted on! (I told you I know a thing or two about good WordPress hosting).
You can probably tell that I thought Dreamhost were a great hosting company by the fact that I've used them for so long.
Unfortunately, my opinion of Dreamhost has changed over the past few months.
Even though I'm currently still using them for this website, I can no longer recommend them and I will be moving away from them as soon as I have time.
The reason for this is simple – their servers are currently far too slow.
I'm not sure when exactly their performance started to drop but I find it impossible to get good performance out of any of my websites hosting on their shared plan.
This is after a lot of optimisation on my websites – tons of work rebuilding my themes, doing every possible trick to speed up the website and using the best caching plugin – WP Rocket.
Want proof Here are the terrible results from my personal website.
As you can see here, the website is nearly perfectly structured with a score of 98%. Even with the well optimised website the site only gets a score of 'C' with a terrible performance score of 59%.
The score is so bad because of Dreamhost. Their servers take so long to respond that no amount of optimisation on the website will achieve a good score.
Of course, all shared hosting plans will run slowly from time to time but these results from Dreamhost are typical. I've tested this website many times and the results are similar every time.
Dreamhost Support
I've had to use support for Dreamhost quite a few times in the 15 years that I've used them. I've had trouble with things like DNS settings, SSL certificate setup and downtime on websites. Every time I've been in touch the support has been fast, friendly and knowledgeable. They've never failed to help me resolve issues I've had. I can't ask for any more than that.
One thing Dreamhost does not have is phone support but this has never bothered me. I prefer support provided through support tickets or live chat anyway.
Dreamhost Speed
Speed should be a major concern for any website owner and reducing the time it takes your website to load can have a strong impact on all of your marketing and online sales process.
I've already shown how poor Dreamhost is when it comes to speed so I can't currently recommend the Dreamhost shared plan.
Dreamhost does have another option though.
A few years ago I tried the Dreamhost VPS hosting platform.
A VPS (Virtual Private Server) means that you have more control over your server and it won't be affected by other users. You get a slice of resources allocated to you only and they won't be shared by others on the server even though there are still other websites sharing your server. This has the advantage of giving you better control and performance whilst keeping costs low (but more expensive than shared hosting).
This VPS setup costs me around $20 per month and I had no issues with it. I was able to switch from shared hosting to a VPS with a single click.
The speed was also good on the VPS platform so this is an option for you. However, this article is about cheap WordPress hosting so the Dreamhost VPS would not be the best all-around option for you. However, if you decide that you would like cheap VPS hosting for WordPress, you should check out Dreamhost.
Personally, I'd still prefer to use SiteGround over the Dreamhost VPS anyway. SiteGround is just that good. That's why I'm currently back on Dreamhost's shared plan whilst I get everything ready to move across to SiteGround in the future.
Dreamhost Uptime
During the first few years of using Dreamhost, my uptime suffered now and again when other users on my shared host did something that had a negative effect on the server. These were rare occurrences though and I was generally happy with the uptime.
Dreamhost has changed considerably since those early days though and they must have much more robust solutions now because uptime has not been an issue for me for a long time now.
I was also happy with the uptime of my Dreamhost VPS server when I tried it out.
Dreamhost now has a 100% uptime guarantee which shows how seriously they take uptime. If your web services go down, you get refunded for the time the services were not available!
The Admin Panel
The admin panel is important to me because a poorly designed one can be very annoying to use if you can't find your way around it easily. I like to use commonly used control panels like cPanel when possible but Dreamhost has its own custom Dashboard.
I won't lie to you. When I first signed up for Dreamhost hosting their dashboard design was not good.
It was clunky and ugly and I didn't enjoy using it at all but luckily it's gone through many reviews since then, each one making the design much better. You can see the end result above. Dreamhost now has a simple, clean and easy to use dashboard.
Dreamhost Pricing
Dreamhost's most cost effective shared hosting starts at just $2.59 per month when you sign up for 3 years. At the end of the 3 years, the price will jump to $5.99. This plan only allows 1 website to be hosted.
If you want to commit to less time, you can sign up for their monthly plan for $1.99. After 1 month, the price will jump to $7.99. Again, you can only host a single site on this plan.
A much better option is Dreamhost's Shared Unlimited plan. This allows unlimited websites to be hosted. They also provide a WordPress Basic plan which is the same as their generic hosting but has WordPress pre-installed and provides WordPress migrations too.
If you commit to 3 years you will get a price of just $3.95 per month which will jump to $10.99 after 3 years.
If you pay monthly, it will cost $2.99 initially and then $13.99 after 1 month.
If you've got a slightly higher budget you could choose the managed WordPress hosting plan which they call DreamPress.
This plan is significantly more expensive but Dreamhost will take care of a lot of the day-to-day boring stuff for you like updates.
Their cheapest managed WordPress package is $16.95 per month for one website only. Their next tier costs $24.95 per month and their top tier for very demanding websites costs $71.95 per month.
Dreamhost has a wide range of price points that cover lots of different requirements. For people looking for cheap WordPress hosting, their shared plan pricing is very reasonable. For a starter website, the Shared Unlimited plan would be the most flexible choice.
Features
Dreamhost has plenty of great features but my usage of Dreamhost is fairly simple. I set up MySQL databases, buy and configure new domains and emails and set up FTP accounts.
If you wanted to do more than that you have Shell access, CGI scripts, access to raw access logs, crontab access, a subversion repository and support for other scripting languages like Ruby on Rails and Python.
If you are looking for cheap WordPress hosting for your own website, it's pretty unlikely you'll ever need things like this but it's good to know they are there.
(Affiliate link)
Bluehost is an extremely popular provider of cheap WordPress hosting and if the price is your main concern when choosing a WordPress host then this may be the one for you. They have much more to talk about than just their low prices though.
Bluehost Support
Like the other hosts here, Bluehost support will not disappoint. They have an extensive set of guides online but if you ever need to get in touch you can call them, live chat or use support tickets. I've used their live chat feature before and got connected right away. My issue was resolved within 5 minutes and I'm confident you won't have any problems with their support service. They take support very seriously.
Bluehost Speed
The speed of the Bluehost sites I've worked with has always been good, but as my old Dreamhost shared server, there were some issues when other users were doing something that slowed down the server.
This happens on any shared host and Bluehost generally does a really good job of protecting against this kind of thing because they have a resource protection feature. This is where they can temporarily move websites using too many resources onto an isolated system so that other websites don't get affected.
I'm sure you won't be disappointed by the speed of your Bluehost website, and overall, they are one of the fasted shared hosting providers.
Bluehost Uptime
Bluehost is a reliable and stable web host. They don't provide as much assurance as either SiteGround or Dreamhost when it comes to uptime though. SiteGround guarantees 99.99% uptime and Dreamhost offer a money-back on any time your site is offline.
Bluehost doesn't offer any such assurances. Their server uptime agreement says this:
We at Bluehost strive to offer the best in the industry for Network and Server uptime. Like all shared hosting companies from time to time, we experience downtime…Most issues are resolved in approximately 15 minutes. However, on extreme issues, it may take more than 15 minutes to resolve. In these extremely rare circumstances, the server may require additional time to resolve the issue. This can take several hours and in very rare cases as much as a day to get your server back up and running.Bluehost
Not very reassuring really but I like the fact they are honest about this. ALL shared hosting providers will have problems from time to time and it's something that any cheap WordPress hosting service will involve. You can still expect over 99% uptime from Bluehost judging by various reports from around the Internet.
Admin panel
The Bluehost admin panel is great. They offer an enhanced version of cPanel so it's great for anyone used to cPanel. You won't have any issues finding your way around and even if you did get stuck there are tons of guides online to help you.
Bluehost Pricing
Bluehost is similar to SiteGround when it comes to pricing. They have the lowest introduction price out of all the hosts here but to get that price, you need to sign up for 36 months! The least you can sign up for is 12 months and then the cost jumps to $5.45 per month.
These prices are only valid for your first term too. Once your initial period is over the price will jump up and Bluehost doesn't make it clear on the checkout page what the price will be when that term ends.
They also pre-select a couple of unnecessary features during checkout such as the Bluehost SEO tools which increases the price significantly. You can just un-select these options but I don't like the way they try to include them by default.
Bluehost Features
Bluehost has plenty of nice features but I think Bluehost is much more beginner orientated than either Dreamhost or SiteGround so they don't have some of the more advanced features. There's nothing wrong with this, as most people looking for cheap WordPress hosting would never use them anyway.
Some of the good features that Bluehost provides are the automatic backups they do, the Cloudflare integration built into their accounts and the one-click installs that are useful for beginners.
Check out Bluehost
(Affiliate link)
Who's the Best Cheap WordPress Hosting Provider?
Best Pricing
As this article is all about cheap hosting options for WordPress websites, lets take a detailed look at the costs for both monthly plans and check the costs over a three year period for each provider.
Cheapest month to month WordPress hosting
If you're a beginner and/or have a very small budget, it is understandable to only want to pay month to month and not commit to a long period of time, even if it does save you money in the long run. Let's see which monthly WordPress hosting plan is most affordable.
I'll compare the cheapest managed WordPress hosting for each provider below.
SiteGround
SiteGround month to month hosting costs £16.99 ($20.86), much more expensive than the £2.99 introductory offer which you would pay if you chose the twelve month option.
If you sign up for SiteGround be aware that it is not very obvious that you can even change to monthly billing. You have to manually select the billing period on the purchase information page.
So, SiteGrounds yearly cost if you choose month to month billing comes to £203 ($249).
What if you choose to sign up for three years minimum? That will cost you £302 ($371) which works out at £8.39 ($10.32) per month. Once the three year period ends, your price would not increase. This is great value for a host as good as SiteGround.
Dreamhost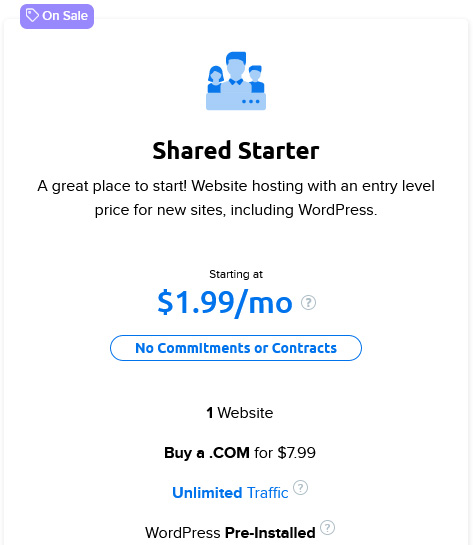 Dreamhost month to month hosting for their cheapest package – Shared Starter costs $1.99 for the first month and $7.99 per month after that first month.
This brings the total price for one year of hosting if you choose to pay per month to $89.88.
If you choose to commit to Dreamhost for three years then you will lock in a price of $2.59 per month for those three years. After the three year period ends, you will pay $5.99 per month.
So the price for three years of hosting at Dreamhost is just $93. This is $278 less than SiteGround.
Bluehost
Bluehost does not currently offer the option to pay monthly. Their minimum period to sign up for is 12 months. If you choose to sign up for this you will lock in a price of £2.34 per month for 12 months and then you will pay £7.93 per month after that.
This brings the total price for the year on Bluehost to £28.08 ($34.47). The price for a year after the offer period would be £95.16 ($116.82).
For three years of hosting at Bluehost you will pay £3.93 ($4.84) per month which will come to £141 ($173) for the entire three years. Once your three year period end, you would pay £7.93 ($9.76) per month.
So who is the best for cheap month to month website hosting?
If you definitely don't want to commit to more than one month then Dreamhost will be the cheapest option. If price is your main concern when choosing a host then Dreamhost could be the best option for you.
If you decide to pay yearly, each provider offers very similar pricing for that initial year. When the first year ends both Dreamhost and Bluehost will be fairly similar in pricing but SiteGround will cost significantly more.
This is due to SiteGround being a more premium and expensive host which offers much bigger discounts during their offer periods.
To get the best value for money with each of these managed WordPress hosting providers you would need to sign up for three years. Dreamhost comes out at cheapest again over this period and SiteGround is the most expensive by a significant amount.
Best Speed
SiteGround is the winner here. Not only are their servers super fast but they go the extra mile to help make your website as fast as possible. They have created their own SiteGround Optimizer plugin and have advanced caching features that you can access from your admin panel.
I've never experienced any issues with speed on sites running on Bluehost but I can't say the same about Dreamhost. My personal websites currently run on Dreamhost and they will be moved to SiteGround soon.
Best Uptime
All 3 hosts are going to provide great uptime so I'm not going to pick a winner here. The nature of shared hosting means that all of these providers will have periods of slow response times and downtime (but this is pretty rare). Charts you see online about uptime and speed don't mean much because they may not even be testing the same server that you'll be on when you sign up!
The truth is – all of these hosts take downtime seriously and you won't be disappointed with any of them. You'll only need to start worrying about uptime when your site starts to grow to serious levels and you need a rock-solid solution you have complete control over.
Best Admin Panel
This is an easy one. SiteGround overall for providing such a simple and easy to use panel but I'd choose Bluehost if I wanted cPanel.
Best Support
Dreamhost has provided lots of great support to me over the years but I'm going to give the edge to SiteGround because they've really impressed me each time I've used them.
Best Features
I think SiteGround has the best features, especially for advanced users.
Best Overall
I think it's quite difficult to choose between these hosts but Siteground gets my overall recommendation. They are great for beginners but have advanced features that more advanced users will love too. Their great features combined with cheap pricing and super-fast servers means that you won't be disappointed with them.
Check out Siteground
(Affiliate link)