A great restaurant website is made with the smaller details. You want a design that's easy to use and helps visitors find whatever info they need.
Thankfully you don't need to be a professional designer to create an incredible restaurant website. And with free CMS' like WordPress it doesn't take much work to get a site online either.
Let's dive into a few restaurant sites to analyze some common trends and how you can replicate these trends to create a website that perfectly matches any restaurant.
Fullscreen Header Photos
Food photography is a staple in the food business. This is how you lure customers further into the site and get them thinking about the thing they might purchase: a great meal!
If you can snap some quality food photos they'll work great in a large fullsized hero image header. You can place one large photo in the background behind your logo and the main navigation, working more like a design accent to help sell the restaurant.
The 5 Napkin Burger homepage is an excellent example. You'll notice their photography isn't the best quality but it's good enough to grab your attention.
Header photos should help to sell the food and the atmosphere of your restaurant. This photo also belongs right at the top of the page so it grabs attention immediately.
Another nice example is the homepage of Michi Ramen, a traditional Japanese noodle restaurant in the heart of Austin. This uses a fullscreen header shot looking down on the food with a crystal clear photograph.
Since the table has a very dark brown wood it contrasts nicely against the brighter text. And the noodle dish is front & center so it immediately tells you about the food at this restaurant.
Any type of close-up food photo will leave an imprint on visitors so this is an excellent technique to follow.
Almost every restaurant WordPress theme should have an option for a large fullscreen header image. It's one of the most common design trends out there and it's great for marketing purposes too.
But I specifically recommend the Osteria theme because this supports a slideshow feature within the header.
This way you can add multiple images into the header and showcase a handful of your restaurant's delicious meals.
Detailed Menu Pages
People typically visit restaurant websites for a few specific reasons. One reason is to see what type of food they serve and maybe how much a meal costs.
Larger chains like the 99 Restaurant get this right with a clean menu interface and their dishes laid out just like a traditional print menu.
Notice how each item includes a small description along with a price. This encourages more take-out orders because people can find everything they need right on the website while deciding what to get for dinner.
Most people prefer a traditional menu style because it's what restaurants have used for years. Another example can be seen on Maggiano's menu page for each primary location.
Thankfully you don't need to build these types of menus from scratch if you go with the right WordPress theme.
The Gourmet theme is one such example with a very clean design and a fully responsive menu page.
Since it's responsive this lets anyone browse the menu on any device from a widescreen monitor to a tiny smartphone.
And with this feature built into the Gourmet theme you can setup everything right from WordPress, no coding skills required.
If your restaurant serves a lot of take out then you'll want a menu on your website.
Clear Contact Details
Another big reason why people visit a restaurant site is to get contact information.
Mostly this is a phone number to call in orders. But you should provide as much info as possible including restaurant location and hours of operation, ideally above the fold in clear view.
On Le Diplomate you'll find both the phone number and the street address right along the very top of the page. This information is the most important so you want to offer this to visitors as quickly as possible.
When you scroll down a bit you'll also find hours of operation for each day of the week. This can be tougher to squeeze into a header but the information is still accessible.
Your design may not have room for all this, so another technique is to add a small top navbar with restaurant contact info. You can see this on the Sweet Cheeks website which also includes links to social media accounts and a button for online reservations.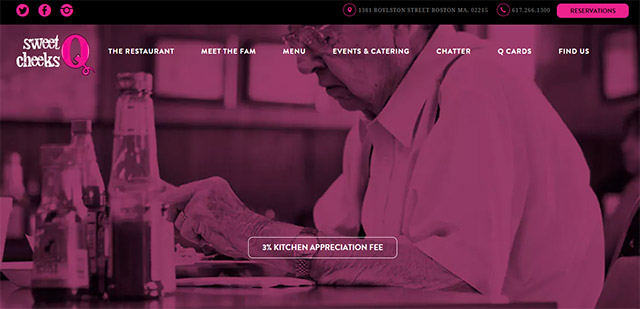 If you're hoping to emulate this technique you should be able to with any decent WordPress restaurant theme.
But my vote is towards Organic Themes' Restaurant which offers a bit of space at the very top of the page for your address, email, and phone number.
With this info in full view you're more likely to increase sales and give visitors exactly what they're looking for.
Single Page Designs
If you have a fairly small restaurant then it's best to go with a single-page design.
All your information can be found on one page so visitors don't need to dig into the site to find stuff. But some restaurants do have a lot of information so this trend won't work for everyone.
I think it works best for local restaurants or small eateries like cafes, bakeries, coffee shops, and similar sites.
Little Rock Diner uses this single page design well and it has a gorgeous fullscreen header photo.
As you scroll down you'll notice a top navbar appears and stays fixed the whole time. It does have nav links but those links don't go to other pages, rather they jump down the page to individual sections to help users get around quicker.
This is also very common practice on single page designs because it informs visitors which sections are on your page and how they're accessible.
Another brilliant design is Whitman's NYC which also includes a vibrant menu section on the same page.
If you like the single page design style then I recommend the Cafe Pro theme for WordPress.
Naturally it works well for cafe's and smaller shops but don't let the name deceive you. This can work just as well for BBQ joints, mexican restaurants, or pretty much any type of local eatery.
You'll also notice this theme uses many of the previous trends I mentioned in this post, all organized into a clean single page design.
Wrapping Up
Most restaurants follow very similar trends and there's no reason to reinvent the wheel. By studying existing websites you can learn what works best and plan which features could work for your site(or your client's site).
I hope these examples offer plenty of ideas for designing the perfect restaurant layout. And if you're running WordPress you might even try one of the amazing WP themes from this guide.