Hive is created by the team at Pixelgrade and they know a lot about making awesome magazine themes. They have a whole range of great themes with top notch designs and each one is built on a solid framework allowing plenty of options.
My favourite option included in Pixelgrade's themes is the style preset option. When you go to appearance → customize you will see some great options which includes a tab for style presets. You'll be able to change the look and fell of the whole website with just a few clicks. Awesome!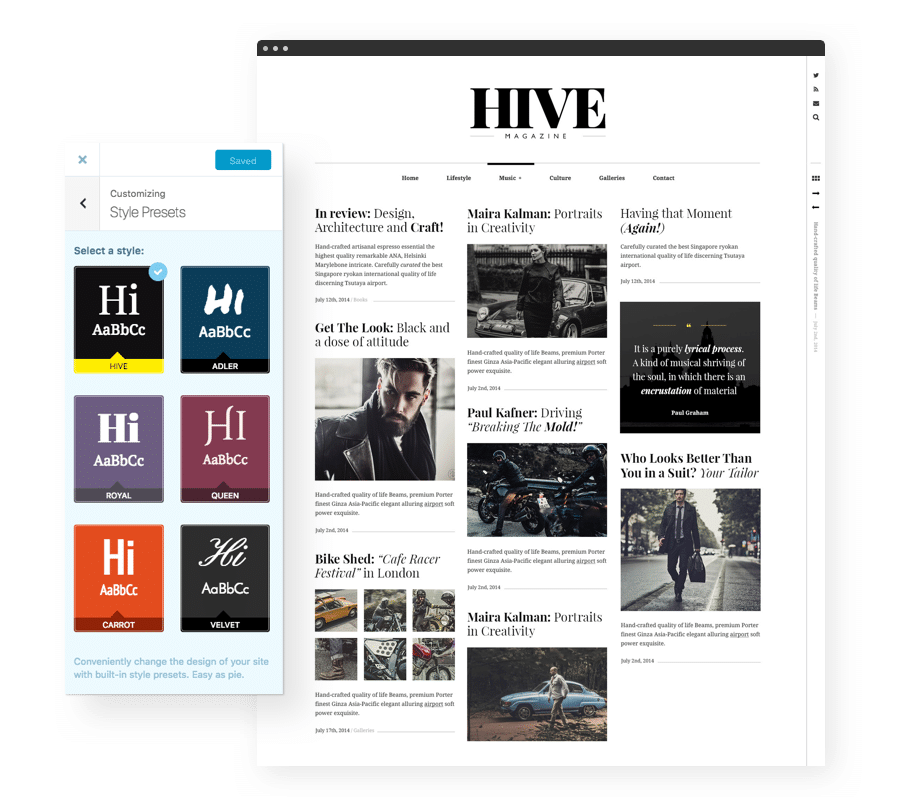 Of course, you are not tied in to those specific presets. You can change the color as you see fit for loads of different elements like headings, body fonts, accent colors and more.
As you would expect from a typography heavy theme, there are some extensive typography options built into the customizer. You will be able to choose the fonts you want to use from a huge list of high quality fonts.
You wont find loads of different page layouts in the Hive theme, which is definitely a good thing in my opinion. By keeping things simple, Hive is much easier to set up and works effectively right away.
Details that make the entire experience unforgettable.Pixelgrade
One thing Pixelgrade do very well is use small, subtle details to make their themes feel unique and special. You can see this in the Hive theme in the hover effects, the drop cap on article pages and the subtle nav bar on the right hand side on desktop displays.
In summary, Hive is a great theme and well worth checking out if you are hunting for a high quality WordPress theme from one of the best WordPress theme shops.