Monte is a WordPress blog and magazine theme by the team at wpzoom. Monte has been designed specifically with fashion bloggers in mind but this theme would work well for other niches too such as travel, beauty or anything design related.
The design used for Monte is quite a common look these days and there are many other themes with a similar look and feel but Monte is able to stand out because it makes this style work so well by getting all the details right. Things like infinite scrolling support and subtle sidebar icons and search icons are a nice touch. The Instagram integration also makes the footer look great by showing some nice visual content there.
My favourite part of the design is the single page articles. The large featured image at the top with the overlapping title section looks great and prevents the page from looking too blocky and conventional. The typography is great and social media is integrated well at the end of each article thanks to Jetpack integration. The related articles at the end of each post also look really nice and the call to action to sign up for a newsletter show in the demo is ideal for helping writers build their audience and deliver great content to them.
Single article pages also have a nice looking author section, neat and elegant comments section and a bold and visual previous post section. Overall, the article pages are really well structured.
Jetpack support also allows tiled galleries which look great inside posts:
The Admin Area
Wpzoom uses a combination of a custom theme options panel and the WordPress Customizer to provide options in the admin area. I much prefer themes that dont have their own custom admin panel as they are often poorly made and ugly but Wpzoom do a good job and provide useful features in their admin panel such as the ability to update the framework that runs the theme. They also have a 1 click import feature built right into their options panel.
The WordPress customizer has everything you would expect including custom options for colors, fonts, logos and menus.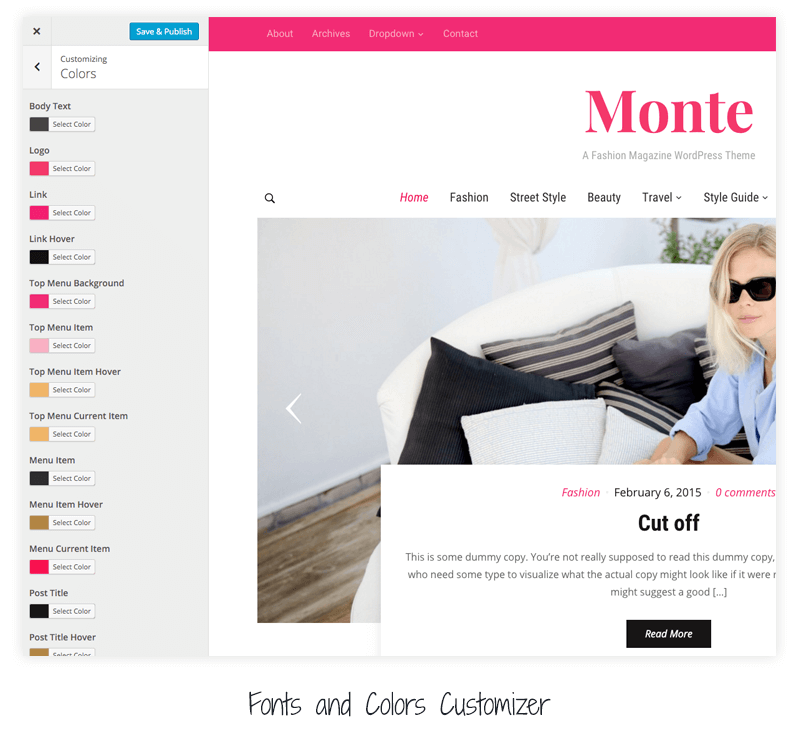 Monte is the perfect choice for fashion bloggers using the WordPress platform, Take a look at Wpzoom to learn more about the theme.