Review Summary
An excellent all in one, free WordPress theme with a pro upgrade option. Perfect for users of Elementor or Beaver Builder.
Abut the Neve WordPress Theme
Neve is a very popular WordPress theme and this Neve theme review will help you decide if it is the best theme for your individual needs.
The Neve WordPress theme comes with a lot of features – way more than you would normally find in a free WordPress theme. The goal of this theme is obviously to upsell users to the pro version of the theme but that doesn't mean the free version isn't valuable in itself.
Neve can be thought of as more of a framework than a theme really because you'll need a fair few plugins installed to get started with the theme. The basic Neve theme is a lightweight theme, optimised for speed and performance that allows powerful tools to work alongside it in order to create impressive websites.
How to Install Neve
If you are a familiar WordPress user then you will find it very easy to install the Neve theme.
Simply search for Neve in the themes screen from your dashboard and click on install, and then activate once you find the theme. You will then be greeted with this screen:
From here, you can either try one of the starter sites by clicking on the blue button or you can skip this and use Neve as a simple, plain theme and configure it yourself or develop what you want from scratch with one of the many page builders available for WordPress.
I would recommend using a starter site as the Neve starter sites look great and doing this can make it much faster to get up and running.
When you choose the option to use starter sites, you will need to install another plugin called Cloud Templates and Pattern Collection.
When you hit the button, you'll be taken to a different screen which presents all of the available templates to you.
This bit is slightly confusing as you are taken away from your WordPress dashboard to a completely different page. Not a great user experience.
When you get your bearings, you will see that there are quite a few Neve theme templates available to download. On the free version of the theme, you can only download templates for the default page editor in WordPress – Gutenberg.
If you want templates for a page builder like Elementor then you will need to get the Neve theme pro version. This is disappointing and I'd expect at least a few templates available for each page builder without the need to update to Neve pro.
There is another very annoying feature with Neve too – when you preview the starter sites you are taken to a preview in the same tab with no way to go back to where you were. You cant open the preview in new tabs and when you click the back button in your browser you are taken back to the dashboard and not the page where you can see the starter sites. Themeisle – please fix this!
Neve Theme Starter Sites
When you do look through the Neve theme starter sites you will find sites for all kinds of different businesses including fitness, agency, corporate, rental, music bands, solar companies, portfolios, shops, bakeries, doctors and many more.
The variety of templates is great and they would all do a good job of getting a website set up quickly. I would say that the design quality of most of the templates is quite disappointing though. Overall the design quality just doesn't match other freemium WordPress themes such as the Sydney WordPress theme, or premium theme like Divi.
If you choose to use one of the starter sites then you'll notice that it is very easy to import the entire site. The starter site will be imported with the click of a button and you can include all the plugins, content, Customizer settings and Widgets.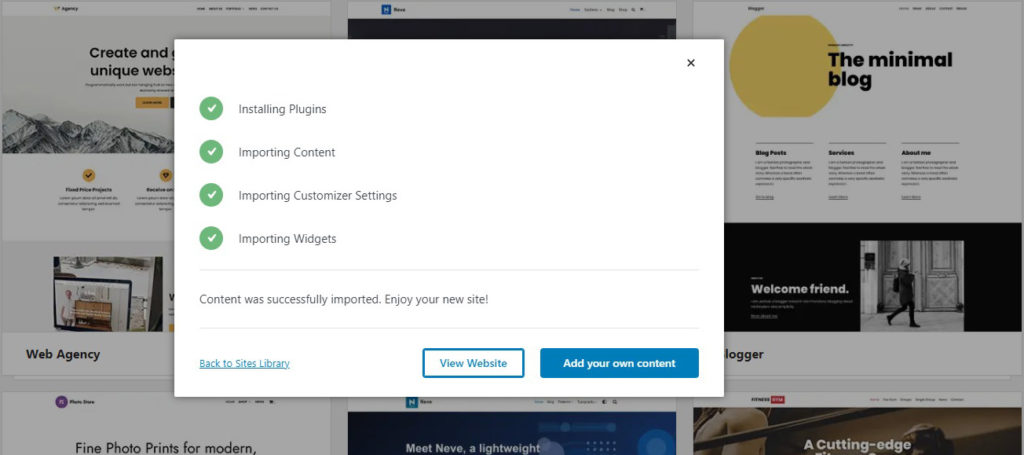 How to Customize the Neve
You get a couple of different options when it comes to customizing Neve.
There are quite a few options that you can configure by going to Appearance > Customize within the WordPress dashboard.
From there, you will be set all kinds of handy features and choose fonts and colours that the theme uses.
However, for in-depth, full control you will need a layout builder that is compatible with Neve and the pre-built layout you have selected.
If you choose a Gutenerg starter site then this will be easy and you wont require any additional plugins. You will be able to edit posts and pages as usual from the WordPress editor.
If you choose a starter site from a Elementor, Thive Architect, Brizy, Divi or Beaver Builder page builder then you will need one of those plugins installed in order to edit the site you chose fully. If you already have experience with some of those pages builders then you will be able to get started quickly. If not, there will be a much bigger learning curve.
Neve Theme Pro or Free Version
Neve is very powerful as a free theme but the pro version does have some great extras thrown in. There are currently three different pricing plans for the pro version.
There is a Personal plan (69 euros per year), a Business plan (149 euros per year) and an Agency plan (259 euros per year). Each of the pro plans allows Neve to be used on an unlimited number of websites.
The main differences between the Personal plan compared to the free plan are the inclusion of components to make editing the header area easier, extra blocks for the block editor such as review comparison blocks, extra Elementor widgets, extra design and layout options, and TypeKit Fonts inclusion. The Personal plan does not have priority support or access to live chat support.
The Business plan includes everything in the Personal plan but also has priority support (still no live chat), the WooBooster feature which includes various WooCommerce layouts and widgets, premium starter sites, and LMS (learning management system) integration.
The Agency plan has all the features of the previous two plans and also includes the ability to white label the website, Neve cloud (you can save templates to the cloud for later use), and live chat support.
Should you upgrade to one of these pro versions? That really depends on what you need from your theme but you will certainly get plenty of value for money if you do decide to.
Personally, I think we wider range of premium starter sites is enough to justify upgrading.
Neve Theme Speed
One thing I need to mention about Neve is that the developers have put a lot of focus on loading speed when creating the theme. They seem to be fully aware of how important page speed is and how many other themes perform poorly in this area. Neve is even compatible with Google's AMP project meaning that you can use Neve to set up very fast mobile versions of your pages.
The initial theme is fast and lightweight when you initially install it. Themeisle claims the page weight of the initial install to be just 28KB. The performance of your theme will vary widely based on the starter sites and page builder you choose though. Still, it's good to see how fast and efficient the core theme is.
Neve Theme Alternatives
The most obvious competitor to Neve is the Sydney WordPress theme.
Sydney is an excellent free WordPress theme which has many similar features to Neve.
The pricing of both themes is similar and both of these themes work very well with the same range of page builders.
Unlike Neve though, the setup process for Sydney is flawless and the starter sites have better designs.
This gives Syndey the edge over Neve.
Astra is another fantastic free theme that you should consider as a Neve theme alternative.
According to the Astra team, it is the most popular free WordPress theme of all time. Looking at its profile page on the WordPress theme directory, it appears to be true – it currently has over 1 million active installs!
As you can see, it also has close to 5000 five star reviews so this is clearly a very good theme.
I've used Astra myself for a couple of projects. Like Sydney and Neve, it has great starter sites to choose from and has been built with performance in mind. The base install is very lightweight and fast.
My favourite aspect of Astra is the great support for Gutenberg. The Gutenberg starter sites are very high quality. I personally like to use Gutenberg if possible because it means I don't have to load any additional page builders like Elementor which will slow your site down considerably.
Neve WordPress Theme Summary
I was really impressed by how many features are included in this theme and how slick the setup process was (although it does have some very annoying issues during the onboarding process). The only downside for me is that the starter site designs could be better (both in free and pro versions).
It is great to see how much effort Themeisle have put into making the theme fast too. Speed is usually an issue for any website using page builders and whilst including them in Neve will still hit the performance, at least the underlying theme is well optimised and very fast.
Overall, this is a great theme and easily one of the best free themes on the market.