Review Summary
Sydney is one of the best all in one WordPress themes on the market. Both the free and premium versions are very good.
Recommended For
Anyone looking for a high quality, free WordPress theme
Anyone looking for a powerful, versatile theme with lots of premium features in the pro version.
Not Recommended For
Anyone who does not like Elementor or complete beginners who do not want to spend any time learning how to use a page builder like Elementor.
When I first reviewed the Sydney WordPress theme aThemes had a wide collection of great WordPress themes including plenty of free options. Their Sydney WordPress theme stood out as being one of the best. At the time it had over 200,000 active installs from WordPress users around the world! Amazing.
Today aThemes have completely changed their theme collection. They now put all of their focus on two themes – Sydney and Botiga. They have completely changed the Sydney theme from a good, but generic freemium theme to one of the best theme solutions on the market with quality that would rival any other theme.
Lets take a look at what makes the Sydney theme so good.
Sydney is a powerful business theme that provides a fast way for companies or freelancers to create an awesome online presence. Sydney brings plenty of customization possibilities like access to all Google Fonts, full-color control, layout control, logo upload, full-screen slider, header image, sticky navigation and much more. Also, Sydney provides all the construction blocks you need to rapidly create an engaging front page.aThemes
Installing the Sydney WordPress Theme
When you install Sydney you will notice a new menu item under the Appearance menu.
This item is called Theme Dashboard and it gives you access to all kinds of very useful features to help you set up the Syndey theme.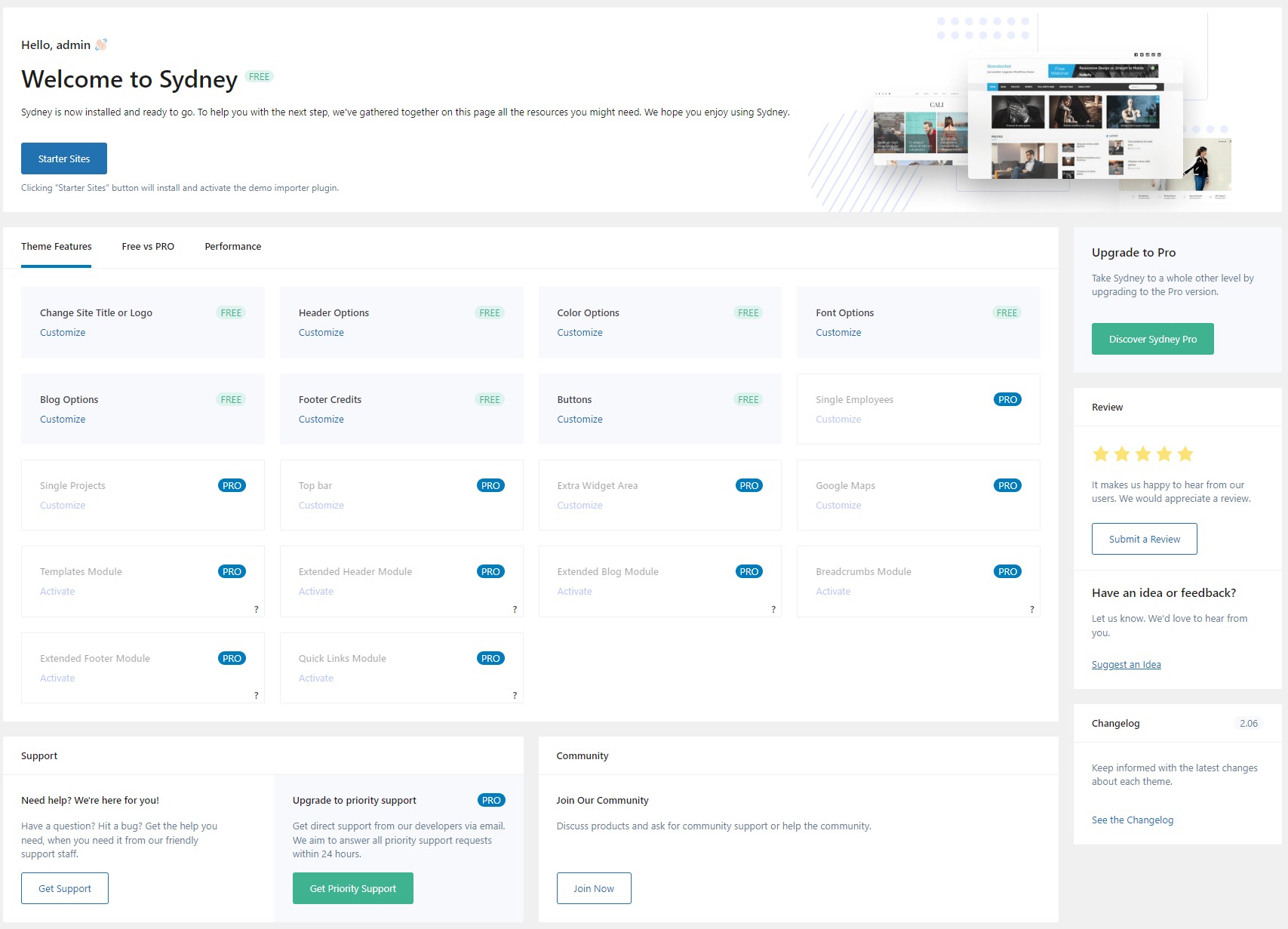 The dashboard is beautifully designed and it gives you easy access to the places where you can tweak fonts, colours, the log and more.
You can also access support from here and access the all-important starter sites upload page where you can choose from some amazing pre-built websites to get you started.
When you choose a starter site, you also get to choose which plugins you want to install along with it such as Elementor and the Sydney toolbox. This is a great feature and the user experience is fantastic. aThemes have done a great job of making it very easy to get started with Sydney.
Sydney and Elementor
Elementor is a very popular page builder plugin for WordPress and the Sydney WordPress theme works perfectly with Elementor.
The theme even has some custom Elementor blocks included with it to make it easier to set up your website if you choose to use Elementor.
In the free version, you get 6 custom Elementor widgets – a testimonial carousel, a slider widget, an employee carousel widget, a gallery, a portfolio, and a latest posts block. The premium version has many more advanced widgets such as a timeline widget, pricing tables, and a contact form 7 widget.
The Sydney theme works so well with Elementor that the theme is officially recommended by Elementor.
It is very quick and easy to get up and running with Elementor – especially if you choose to install it along with your starter site.
As soon as the site has finished importing (which only takes a few seconds), Elementor is ready to use. You will notice a new Elementor menu item in the main menu and when you go to your posts or pages, you will see an Edit With Elementor button that takes you to the visual builder.
Sydney Theme Options
Sydney has a top-notch theme options panel built into the WordPress customizer.
You can change everything that you would expect – even in the free version.
Header styles, fonts, colours and typography can all be easily changed.
The design of the theme options screen is great too. It looks very professional and slick.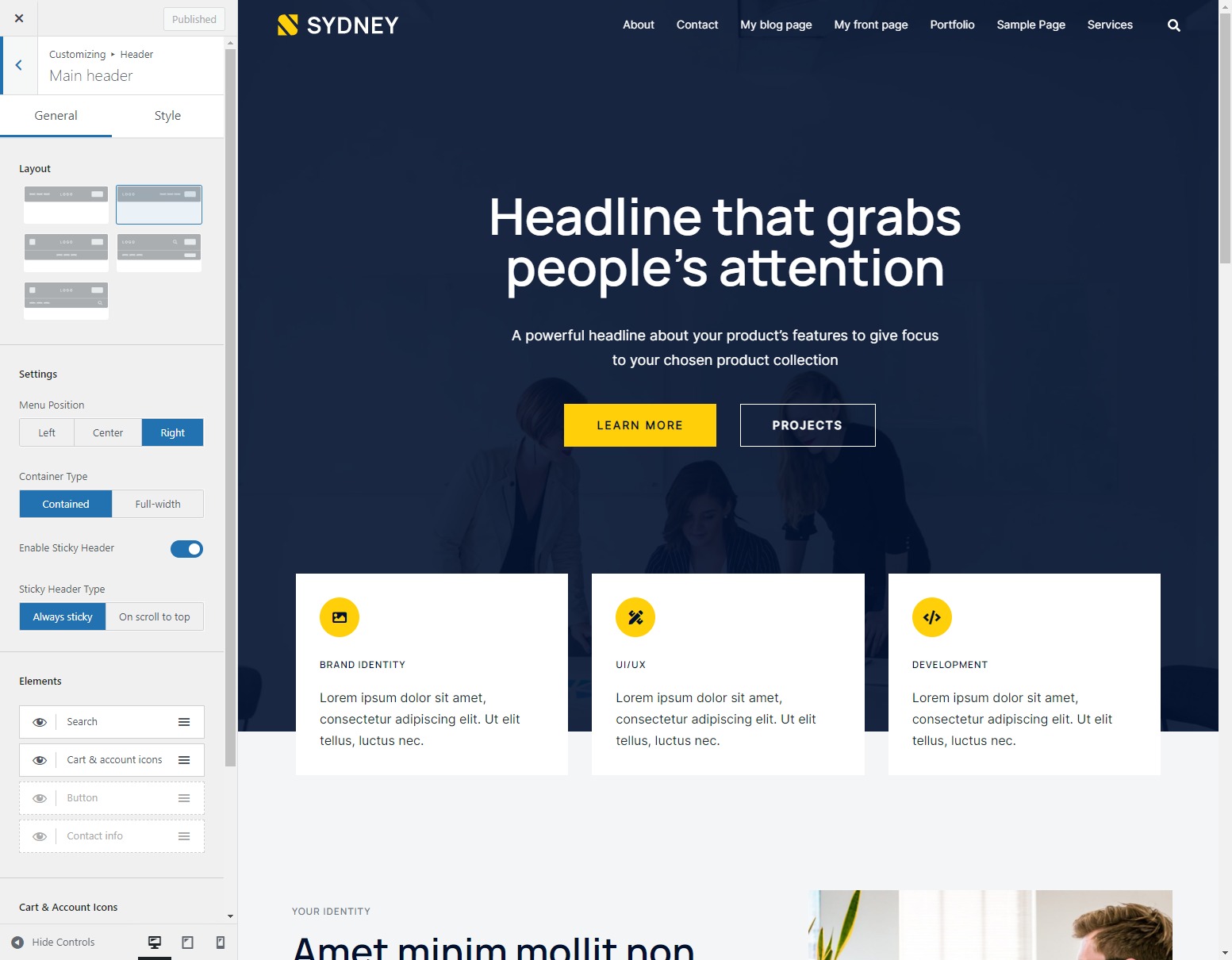 Another thing I like about the Sydney theme options screen is that you don't get any annoying pop-ups or messages asking you to upgrade to Sydney Pro. There are a couple of buttons that let you know that there is a premium version of the theme but that's it.
Sydney Theme Free or Pro Version
As I've mentioned, there is a pro version of the Sydney theme, but is it worth upgrading?
The pro version of Sydney gives you quite a few great features. You'll get extra blocks for Elementor such as pricing tables, you'll get extra page templates to choose from, some great starter sites, more options in the customizer and advanced WooCommerce compatibility.
I think these extra options are certainly worth the price tag of $69 for a single theme. You can see the full list of differences between the Sydney theme pro and free versions here.
When deciding to upgrade or not, keep in mind that if you need Elementor support then Elementor has a free and pro version too. To fully unlock advanced features and allow a high level of customisation you will need pro version of both.
As the pro version of Elementor costs $49 per year for a single site and $199 per year for up to 25 sites, the costs can really add up.
Not only that, but you theme will need to load a lot of resources such as CSS and JavaScript files from both Sydney and Elementor which can really slow your site down.
If you do go down this route, then be ready to spend lots of time learning about speeding up your website and tweaking the settings in a cache plugin such as W3 Total Cache. Alternatively, you could use WP Rocket which is by far the best caching plugin for WordPress and lets you speed up your website dramatically without much know-how.
How Good is the Design?
When I first reviewed Sydney a few years ago, the design was fairly generic and unremarkable. But not today.
aThemes have done an amazing job recently of modernising the theme and paying lots of attention to the designs of the pre-built layouts.
You can see the designs for the starter sites in the free version below. All three are good quality, nice looking themes that would be ideal for many businesses.
The free Sydney theme has 3 stater sites to choose from and the pro version currently has 17. If any of these starter sites are suitable for you then you can get up and running with Sydney pretty quickly.
If the starter sites are not suitable for you, you need to change them significantly, or you want a more premium feel then that means that you will need to upgrade to the pro version, or use Elementor which will make the set up process longer and more complicated.
The design quality in the starter sites included with the pro version is fantastic, as you would expect. They rival anything I've seen in other premium themes on the market.
One thing I would say though is that I'd like to see more thought put into the blog pages. In some of the designs, you can see that the homepage has had a lot of time and effort spent on it whilst the blog pages still look quite boring and generic.
You should also bear in mind that the pro versions use Elementor and you will need to be prepared to use it too if you want to choose one of the pro designs.
You'll find pre-built layouts for agencies, cafes, apps, resumes, e-commerce and more.
Here are some samples of the current starter templates in the pro version of Sydney:
Sydney Theme Documentation
The amount of help available online for the Sydney theme should make it easy for anyone to solve any issues they come across when setting up the theme. aThemes also provide plenty of online documentation so you can see exactly what is involved in setting up the theme before you decide to buy – very handy!
Sydney WordPress Theme Support
I've not had to use any support for the Sydney WordPress theme myself but aThemes are a well-known company that has been around in the WordPress industry for a long time so I would imagine their support is very good. There are also thousands of other users all over the world sharing solutions in the support forum on the Sydney theme page.
Conclusion
The Sydney WordPress theme is definitely one of the better free WordPress themes available due to its simplicity, high-quality designs, Elementor support and high-quality admin interface.
It is a very solid choice for a powerful, all in one theme and you won't be disappointed if you decide to try it. You can check out Sydney here.
Premium WordPress Theme Alternatives
If you are looking for something like Sydney but don't want to use Elementor then I'd recommend checking out Divi. Divi is still the best WordPress site builder on the market in my opinion. They also have thousands of 5-star reviews on Trustpilot and the value for money you get with Divi is amazing.
Divi only costs $89 per year too. The pro version of Sydney along with Elementor Pro would cost a minimum of $118 per year on the cheapest Elementor plan.