Review Summary
The Uncode WordPress theme is an excellent theme but you'll need to spend time on optimising speed and learning how the Wpbakery Page Builder works to get the most out of the theme.
Uncode is made by the team at Undsgn. Their mission with Uncode is to create a truly multiuse theme that requires no coding knowledge to create some really impressive websites.
Uncode is a pixel-perfect Theme designed with terrific attention to details, flexibility and performance. undsgn
Uncode Theme Design
Uncode comes with over 30 demo websites set up and they are all of a high quality with great attention to detail. The amount of variety in the demos really is impressive and you can see just how much work the Undsgn team have put in to this theme.
Many all in one WordPress sites are great at producing fairly generic websites which all use the same kind of features. You know what I'm talking about – hero images with a color overlay and centrally aligned text, stats counters that animate as you scroll down and horizontal 'sections' spanning the full width of the page. However, Uncode allows you to go well beyond these types of layouts and create designs that are far more unique.
Just have a look at these examples to see how varied Uncode layouts can be thanks to their wide array of theme options and their powerful grid layout system which is included in the theme:






You can see from the examples above that all kinds of modern layouts and trends are accounted for. These different layouts can be imported easily to allow you to get started quickly.
One downside of Uncode, or any powerful all in one theme really is that to make the most of the theme and make significant changes to any of the demo sites you will need to put in a lot of work. All in one themes are always marketed as being very simple and powerful, and they are as long as you stick to the pre-made layouts, but you'll need to spend a lot of time learning, tweaking and talking to support if you need to deviate from the demo layouts.
Uncode Theme Features
The feature list of the Uncode WordPress theme is huge! You'll get loads of elements like tabs, accordions, lightboxes, header layout variations, navigation blocks and parallax scrolling features.
The best features though are the powerful layout options that allow you to create the varied layouts shown above. The grid system in Uncode allows you to do more that simply add content to columns and rows. You can create equal height columns and shift columns around easily to rearrange them on different devices.
Like many all in one themes, Uncode uses WPBakery Page Builder and has tailored it themselves. This is great for anyone who likes this popular layout builder and already has experience using it. I'm not a fan of the WPBakery Page Builder myself but I appreciate it is a popular choice amongst many WordPress theme users.
Is the Uncode Theme Fast?
Many all in one themes suffer from 'code bloat' and slow load times due to the sheer scale of them. The team behind Uncode says they have paid a lot of attention to load speed though. They claim to have achieved a speed score on gtmetrix.com of 98% which is very good but when I tested one of their agency demo sites myself the results were very poor.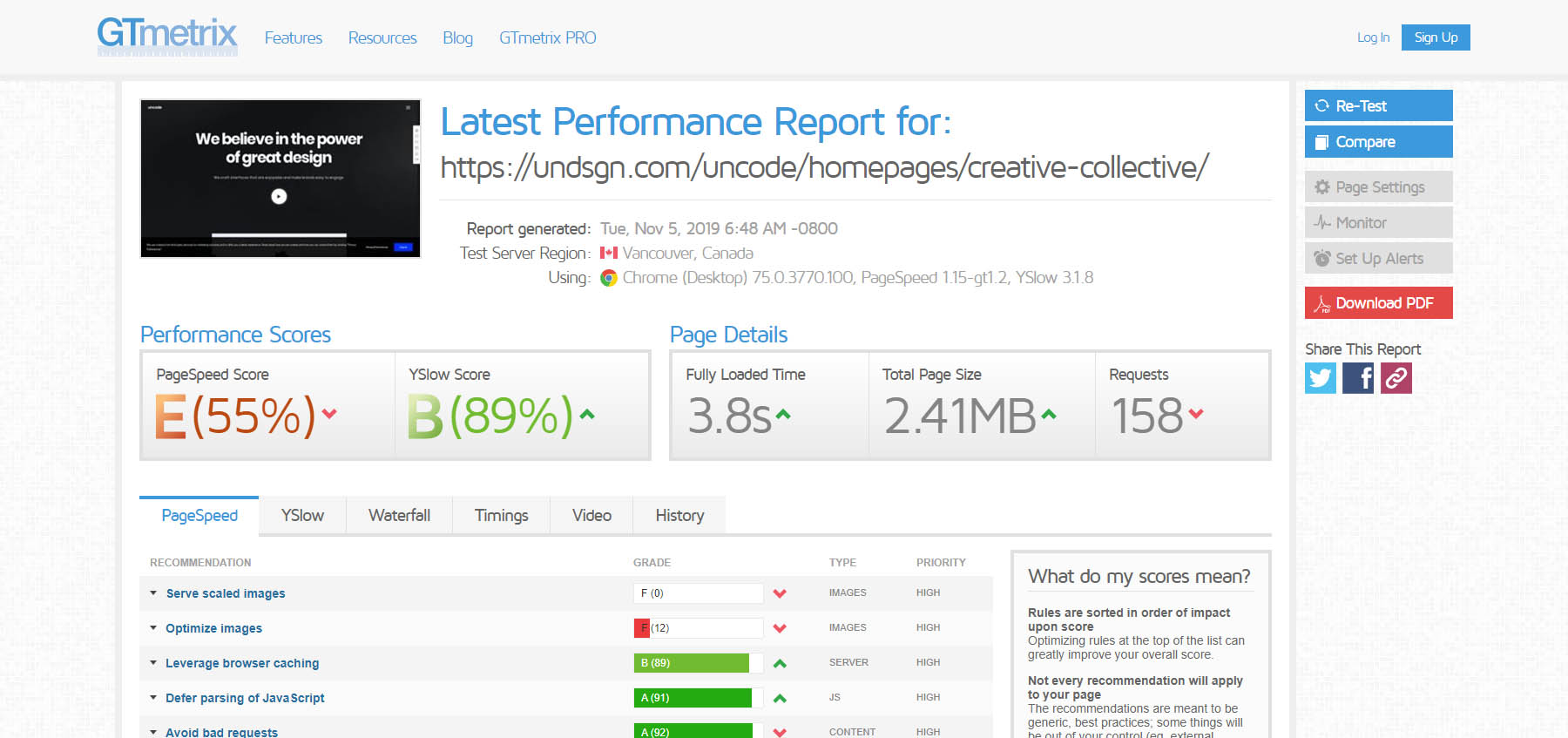 The gtmetrix page score was only 55%. The theme had 158 separate requests and a page size of nearly 2.41mb. This poor score is because the demo sites have not been optimised properly and the score could be improved dramatically but it goes to show that if you use the Uncode WordPress theme you'll to spend some time optimising the website yourself to get an acceptable loading speed. If you don't know much about WordPress themes and optimisation then this is another hurdle to overcome whilst setting up your website.
Out of the box without a lot of time spent on optimisation, the Uncode WordPress theme is not fast.
Final Thoughts
Overall, you have to hand it to the Undsgn team. They've created an impressive WordPress theme here and they deserve the amount of success they are having with it. Their customers seem happy and the theme is selling very well on Themeforest. Currently, they have sold over 30,000 copies of the theme!
If you don't think the Uncode WordPress theme is suitable for you, we recommend checking out the Divi WordPress theme too. This is another very powerful all in one WordPress theme that you may like. Divi will also require time spent on speed optimisation, but it has some great pre-made layouts and an excellent front end page builder.