Review Summary
An incredible caching plugin for WordPress that requires hardly any knowledge to get amazing results.
Recommended For
Any website owner that does not mind paying a small fee for improving their website speed.
Not Recommended For
Anyone with a very low budget who is just getting started with their website.
In this WP Rocket review, I'm going to show you what happened when I installed it for the first time on a real-life website that was previously optimised with W3 Total Cache.
If you're interested in getting the best possible speed from your WordPress site, keep reading.
What is WP Rocket?
WP Rocket is a caching plugin for WordPress. A caching plugin is used to make your website faster and improve your Core Web Vitals score – an important score used by Google to measure how fast your website loads.
Google also uses your Core Web Vitals score as a ranking factor which means that having a faster website can help your rankings in the search engine.
WP Rocket is different to some other plugins like W3 Total Cache because there is no free version. Most other caching plugins for WordPress have free versions that do a great job of speeding up your website and offer pro features for a price.
Most caching plugins require quite a bit of work to get them up and running and some understanding of the various settings and what they do.
WP Rocket is different. They claim to be able to automatically apply 80% of the settings you need without any knowledge or tweaking by the user. It also claims to be able to give your Core Web Vitals a huge boost as soon as it is activated.
WP Rocket is much more than just a WordPress caching plugin. It's the most powerful solution to boost your loading time, improve your PageSpeed score, and optimize your Core Web Vitals.

The WP Rocket team
Sounds too good to be true. But is it?
My Results – WP Rocket Vs W3 Total Cache
I'm going to get right to the point now and show you the results I had on an actual website that I've worked on for years.
Initially, the website was optimised with the free version of W3 Total Cache along with another plugin to handle lazy loading of images.
I'd tweaked every setting imaginable over the years and always struggled to get an acceptable page speed score. The speed was OK, but I wanted it to be even better. Here are the results of using W3 Total Cache:
As you can see, the speed was being let down by the Largest Contentful Paint (how fast the main content of a web page is loaded) and the initial server response time (how fast your device gets a response from a server after a request is made to the server).
These scores remained poor after a lot of front end optimisation too. I'd already removed all unused CSS and JavaScript, put critical CSS code in the head and loaded any other CSS and JavaScript files in the footer instead of the head of the website.
I decided to give WP Rocket a try as I'd seen some good results on some clients' websites that I had worked on.
I signed up for the $99 per year package, downloaded it and uploaded it to my plugins folder.
After that, I deactivated my other caching plugins and activated WP Rocket.
The results surprised me. My page speed score was an 'A' with absolutely no additional optimisation.
Wow, I was impressed.
I was very encouraged by these results so I did some extra optimisation too.
These are the settings I applied within the plugin settings:
As you can see here, I minified my CSS files (this removes whitespace and comments in order to make the file smaller) and I used the Optimize CSS delivery feature and chose the remove unused CSS feature which is currently in Beta but worked very well for me.
The next thing I did was to enable lazy loading. This means that images are only loaded when they come into view as the user navigates your website. WP Rocket comes with this lazy loading feature so I was able to remove an old plugin that I used to do this separately with.
The final setting I tweaked was enabling preloading. This means that assets are loaded and added to a cache before they are needed which makes the website appear to load much quicker.
So there you have it – WP Rocket really can speed your website up drastically with very little work on your part and gave me much better results than W3 Total Cache.
If you're interested in trying it out for yourself, then read on and I'll tell you everything you need to know to get started.
How to Install WP Rocket in WordPress
To get your copy of WP Rocket, you need to go to the WP Rocket website and sign up for the version you want.
There are currently 3 licence types for you to choose from. A single site licence for $49 per year, a $99 per year licence which allows usage on 3 websites and a $249 per year licence which allows usage on unlimited websites.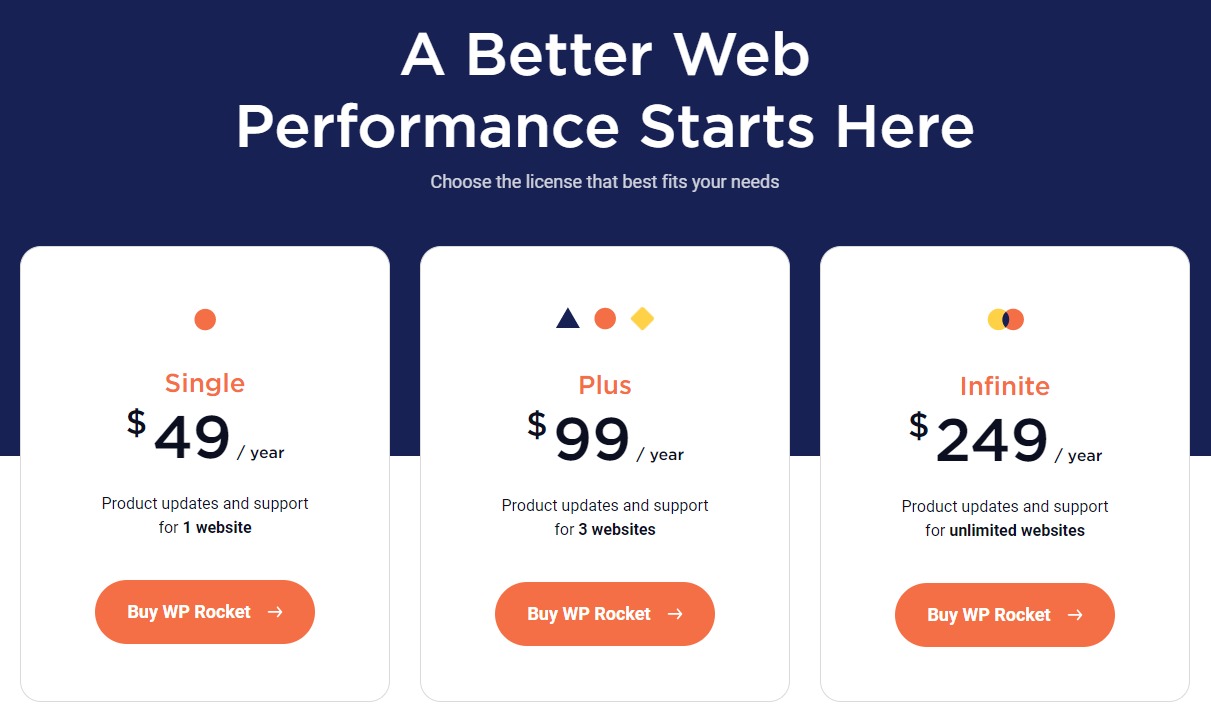 Once you've chosen your licence and paid, you'll get an email telling you how to get started and you will be sent right to a dashboard when you can download the plugin.
Simply download the folder, unzip it and then upload the folder to your plugins folder.
You can do this with FTP software like FileZilla or you can go to your WordPress site dashboard and then go to Plugins > Add New > Upload Plugin.
Once you've done that, WP Rocket will show up in your list of plugins. Simply click the Activate button on the plugin and you're good to go!
As soon as you activate the plugin you should notice your website loading faster.
If you want to make the same tweaks that I did above, go to Settings > WP Rocket and apply the same changes as me to make your website even faster.
Why Is Caching Needed in WordPress?
When you load a webpage on a WordPress website, quite a lot needs to happen before you can actually view anything on your screen.
A request needs to go to the computer that hosts the webpage a response needs to be sent back and instructions need to be sent and received so that the server knows what it needs to send to you. During this process, a database needs to be queried to get information out of it. WordPress needs to grab various bits of information from the database and send that information back to template files that display that information.
As you can imagine, this process can take so long that it can frustrate the user and make them wonder what is taking so long. If the webpage does not load as quickly as the user expects, they could leave and go somewhere else.
A slow website can therefore damage your business and reduce the conversion rate of your website.
A WordPress caching plugin fixes these issues by generating a static version of the webpage so that the user does not have to wait for so many requests back and forth between their computer and the server.
But that's not all. They can also apply various other settings that can make your website much faster. Read on to find out how.
How Does WP Rocket Work?
It works by automatically applying many of the settings that have the biggest impact on page speed, that you would usually have to apply manually.
It will enable browser caching, reduce the number of requests, enable GZIP compression, apply optimal caching headers and more.
From the click of a button within the WP Rocket settings, you can also apply additional features like lazy loading images, removing unused CSS, deferring JacaScript execution, generation of critical CSS, database optimisation, CDN integration (with an additional subscription) and much more.
For beginners, this is great as it saves you a great deal of time and it can have a huge impact on your page speed.
If you're a more advanced user, you may want to know exactly what happens under the hood. WP Rocket has put this handy guide together to explain how it works.
WP Rocket Features
WP Rocket comes with a list of powerful features that are very easy to set up. Lets take a look at exactly what the WP Rocket plugin can do.
The Dashboard
When you first install the plugin you can access the dashboard by going to Settings > WP Rocket.
From there you can see the handy dashboard that gives you links to help files, videos and commonly asked questions so that you can learn how to set up WP Rocket.
The WP Rocket dashboard looks great and it is very easy to use. You can clear your cache from here (you need to do this if you change any cached files such as the main CSS file), preload the cache or remove the CSS cache.
RocketCDN – WP Rocket CDN
The team at WP Rocket has their own CDN solution which can be set up as a separate service which costs $7.99 per month.
CDN stands for Content Delivery Network. A CDN works by hosting some of the resources that your website uses (images, CSS files etc) on a different server to the one your website is on. These resources can then be downloaded from servers that are geographically closer to your website's visitors. Doing this can help to improve the speed at which these assets are downloaded by your visitors.
If you do choose to further speed up your website using a CDN, WP Rocket allows this to be done at a very reasonable price via RocketCDN. WP Rocket configures everything for you to make it as easy as possible too.
You don't have to use RocketCDN though. You can enter the details for your existing CDN into WPRocket too.
If you are new to CDN's you are probably wondering if you really need one. The answer is no, for most people. You'll be able to get a great page speed score and make your website very fast without a CDN. If you do have the extra budget and you have a high traffic website a CDN can be a good way to squeeze out some extra performance though.
WP Rocket Hosting
When it comes to hosting a website that uses WP Rocket, there are some hosts that are specifically optimised to work along side WP Rocket. WP Engine is one of these hosts. In fact, WP Engine only allows WP Rocket as the caching solution on their system.
WP Engine is a very good quality WordPress host so this recommendation shows how good WP Rocket really is. WP Engine is not a cheap WordPress hosting solution though and will be out of budget for many people reading this.
For an affordable and very high-quality WordPress hosting solution that works perfectly with WP Rocket, I'd recommend Siteground.
Siteground takes speed very seriously and has its own excellent and free plugin called Siteground Optimizer. The Siteground Optimizer is fully compatible with WP Rocket even though they do have some feature overlap. This means that if both plugins enabled the same feature such as lazy loading, you would need to disable that feature on one of the plugins.
Summary
I hope you've found this WP Rocket review helpful. If you decide to try it out on your WordPress site, you won't be disappointed. If you simply can't justify paying for this plugin at the stage your website is currently at, I would recommend the W3 Total Cache plugin instead. The free version of W3 Total Cache is great too, but it will take longer to set up and it will be more difficult to achieve the same results as WP Rocket.